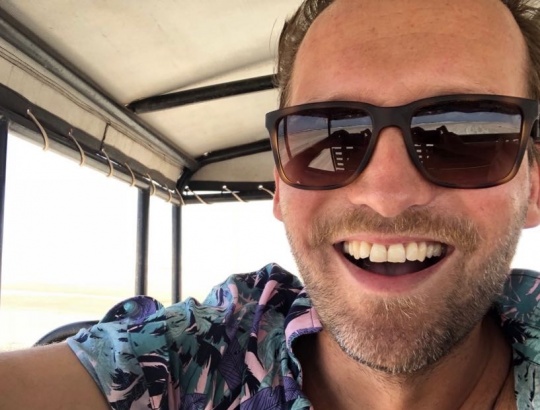 Dr Marc Wagenbach
Executive Director and Director of Ekeby International Research Center for Contemporary Arts
Marc Wagenbach (Dr. phil.) studied Theater Studies, Film and Television Studies and Classical Archeology at the University of Cologne and at universities in Sydney and Bayreuth, and gained his doctorate in the field of Media Studies and Aesthetics at the University of Cologne. During his studies he worked with various choreographers and directors as a dramaturge and assistant, including South African choreographer Robyn Orlin.
In 2007, he became assistant to Pina Bausch and a member of Tanztheater Wuppertal Pina Bausch. Following the death of Pina Bausch he was appointed Research and Development Manager of the Pina Bausch Foundation (2009-2013) and involved in the archiving project "An Invitation from Pina. An Archive as a Workshop for the Future." In 2014, he founded Ekeby International Research Center for Contemporary Arts in the Netherlands. Marc Wagenbach has won numerous awards for his work.
Recent publications:
Archive des Kolonialen. Übersetzungen kulturellen Erbes im Tanz, in: Eva Knopf/Sophie Lembcke/Mara Recklies (eds.), Archive dekolonialisieren. Mediale und epistemische Trans- formationen in Kunst, Design und Film, Bielefeld: transcript 2018, pp.191- 206.

Inheriting Dance. An Invitation from Pina (eds.), Bielefeld: transcript 2014 (with Pina Bausch Foundation).

Inheriting Dance. An Archive as a Workshop for the Future, in: Ders./Pina Bausch Founda- tion (eds.), Inheriting Dance. An Invitation from Pina, Bielefeld: transcript 2014, pp. 15-20.

Wild Gardens. Archiving as Translating (Wilde Gärten. Archivieren als Übersetzen), in: Marc Wagenbach/Pina Bausch Foundation (eds.), Inheriting Dance. An Invitation from Pina, Biele- feld: transcript 2014, pp. 39-55 (with Gabriele Klein).

Ein Archiv als Zukunftswerkstatt. Zur Erfahrung der Drittmittelförderung beim Pina Bausch Archiv, in: Betrieb versus Projekt? Finanzierung der Archive in der Zukunft, Archivheft 44, Bonn: Hagelt 2014, pp. 79-82 (with Salomon Bausch).

Digitaler Alltag. Ästhetisches Erleben zwischen Kunst und Lifestyle, Munich: Utz 2012.
Contact: marc@ear.productions

DINA NATHALIE HERRLER
Editor-in-Chief of "ECLECTIC MAGAZINE"
Dina Herrler is a freelance journalist and lives with her family in Berlin. Her writing covers a range of issues relating to social change, design, the arts and culture.
The question of how we would like to live and how we are likely to live forms a particular focus of her work, which she explores through the lenses of pop culture and cultural theory. Developments in the culinary arts and industry – food labs, trends, sustainability and the renaissance of regional produce – are another of her passions. Eclectic. It's the name of our magazine. And the nature of our time.
Check out her project: BERLIN IST EINE FRAU (BERLIN IS A WOMAN) and Dina's blog on the corona crisis.
http://berlin-ist-eine-frau.de/blog/
Contact: dina@ear.productions