Seminars at Ekeby
The studio provides a space for our Associated Artists and Scholars Program, as well as seminars and talks by the Ekeby International Research Center for Contemporary Arts. The seminar room, 150 m2 in size, is located in the midst of a park covering 15,000 m2, with its own fruit and vegetable garden in the Dutch nature conservation and recreational area Appense Bos.
Ekeby House is part of a large country estate near the old hanseatic towns of Zutphen and Deventer, as well as the city of Apeldoorn and the Ijssel River. The area is well known for its large bathing lake in Bussloo and the many hotels and B&Bs in the vicinity. Ekeby is located directly on the Maskramerpad - a hiking trail - which has connected the east of Germany with the western Netherlands for centuries. Ekeby is one hour away from Schiphol airport in Amsterdam and 1.5 hours away from the Ruhr region.
INDIVIDUAL AND PERSONAL. OUR SEMINARS AND TRAINING COURSES AT EKEBY
At Ekeby we offer seminars and training courses all year round that are individual and tailored to each group. Usually conceived for a single day or for 2 to 5 days. The seminars are held in English or in German. They are based on the methods developed at Ekeby and in the International Research Center for Contemporary Arts and start from the analysis and description of artistic working processes (Rehearsal Studies). The areas of application include:
PERSONALITY FORMATION – CONFLICT MANAGEMENT FOR GROUPS AND INDIVIDUAL ACTORS – COMMUNICATION TRAINING – DESIGN OF TRANSFORMATION PROCESSES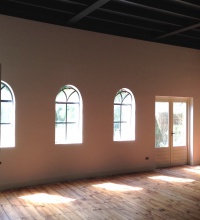 Our current seminars are listed in the 'Latest' section.
CONTACT ME!
Upon request I can put together an individual offer for a seminar or training course within two weeks. Simply tell me your subject area, the number of participants and the timeframe. Or just call me at + 31 613 40 77 68 or send an e-mail to marc@ear.productions
FINDING NEW WAYS. THAT IS EKEBY.